Bruins fans and a smattering of Blues fans were treated to an amazing night of hockey through 65 minutes, with the Blues matching the Bruins in chances, and both goaltenders standing strong. And then: skills competition. Horrible.
Of course the Bruins didn't win - Claude Julien opted to ice Chris Kelly as the fourth shooter - and thus, more loser points are released into the VASTLY SUPERIOR Western Conference. Horrible.
But the first 65 minutes, though. The first 65 minutes were the sort of hockey you hope to see in June, fast and clean and chippy, with only one penalty a side through the whole thing. The big guys laid some hits, Vladimir Sobotka took faceoffs against David Krejci and Patrice Bergeron and we all bemoaned the trade again, Carl Söderberg made us forget that trade and remember another by scoring a goal of his own. It was excellent, entertaining hockey.
And at least they got a point out of it, as disappointing as it ended.
The Good:
- CAAAAAAARL! The Yeti netted his third goal of the season, putting him at 3-6=9 totals on the season. He has four points in the last seven games, and has looked increasingly comfortable on NHL ice as the season has progressed.
- Kevan Miller had a hell of a game, finishing having played 17:42 and getting a good chunk of time on the one PK the Bruins had to deal with. He's a product of the Los Angeles youth hockey, and didn't move east to play hockey until he was 16. Excellent. America.
- Milan Lucic hitting everything that moves is such a delight. His hit on Magnus Pääjarvi (SUCH UMLAUTS) actually shook a pane of glass loose.
- Remember when we had to actually worry about the third line being terrible? Not so much anymore. Feels good.
- Dougie Hamilton continues to be a boss in his own end.
- The pace of this game. The Bruins had their most solid effort of the season, never ending up in their own zone for significant chunks of time, and causing havoc through the full 60 in the Blues' end. Good to see.
The Bad:
- SHOOTOUTS. Mostly that's it, though. The first goal Rask allowed was softer than a plastic bag full of warm runny dog poo, but aside from a few oops moments by the rookie defensemen, that was really the only hole in the Bruins' game tonight.
The Interesting:
- The Blues are 6-0-0 in their last six games in Boston. The Bruins have a similar record in St. Louis. Let's do this in the Stanley Cup FInals, and give STL the home ice advantage. THIS PLAN IS FLAWLESS
Notable Moments:
Aww, Miller's mom and dad.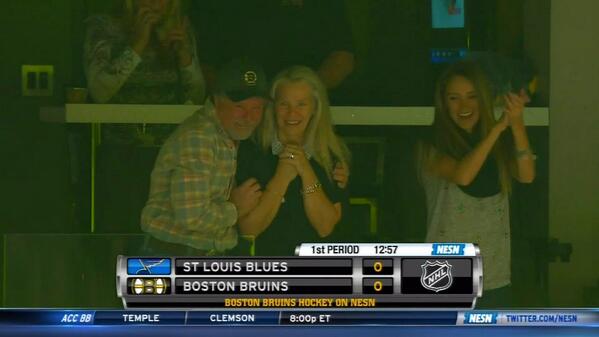 Campbell goal
SODA COOKIES VS THE TEAM THAT DRAFTED HIM
Lucic says go to hell yappy lappy
Lucic destroys Paajarvi
RASK SMASH
Gif of the night:
yup
Tweet of the night:
I love that the Bruins are forcing the Blues to participate in this grand reminder that the Blues are a bunch of losers

— Anthrax Jones (@AnthraxJones) November 22, 2013