The Oilers aren't a team we here in Boston see very frequently by accident these days. Generally if you want to watch an Oilers game, you have to really want to watch an Oilers game. That said, the players for this post weren't incredibly difficult to decide on.
Player We Love:
Andrew Ference
Oh come on, as if it'd be anyone else? The Oilers' captain spent a significant chunk of his career in Boston, and while many were displeased with the terms of his contract a few years ago, he finished his time here as a reasonably not-terrible third-pairing defenseman and left town with a Stanley Cup ring to his name.
But just as with Shawn Thornton, Ference's hockey skills aren't the reason we love him. We love him because he's inextricably Boston now; his involvement with the community and his ability to still find himself back here whenever the Oilers aren't playing are endearing as hell. Our own Heather listed a number of reasons why we love him in this great article when Ference's career here wrapped up back in 2013. How could we not love a guy that flipped off 20,000 Habs fans at once, fulfilling every Bruins fan's greatest dream? How could we not love a guy that threw himself into early-morning workouts with regular Joes from around the city, a guy that teases his teammates on social media and gets Zdeno Chara to pose with him a la Rose and Jack on the Titanic?
No, seriously.
It was awesome to see Ference be made captain of the Oilers in Shawn Horcoff's wake, rather than some uppity youngster like Taylor Hall. Which leads us to:
Player We Hate: Taylor Hall (and his dumb horse teeth)
Remember summer 2010? TAYLORORTYLER. TYLERORTAYLOR. Taylor Hall's big dumb horse face was on NESN and every other Boston sports channel with nothing better to cover than the NHL draft and Boston's #2 pick. And then as numerous Bruins fans watched from the plaza at Quincy Market, he went to Edmonton, we got Seguin, and the rest is history.
Personally, as well, I went to OKC during the lockout to watch some NHL-caliber talent in an AHL game, and what did he, Jordan Eberle, and Ryan Nugent-Hopkins do? Coasted around like assholes until it was convenient for them. It was incredibly frustrating to watch. So yeah, I resent you, Taylor Hall. As there's really not much else on the sad-sack Oilers to resent, he gets to be the player we "hate." Congratulations.
Plus, he's a complete moron.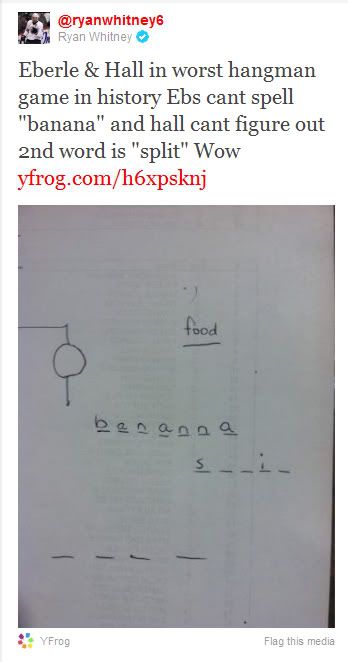 Unrelated: remember that time the Oilers' oil derrick almost took out half the team? WHAT A MAGICAL FRANCHISE.