When Joe Haggerty walks down the street, people briefly look at him and then continue on with the rest of their day. CSN New England's Bruins beat writer and national punchline is often referred to, by many, as someone who is far too incompetent at his job to warrant so much as a single yearly paycheck. Personally, if you gave Haggerty a bag of nickels every March and a picture of Gregory Campbell walking his dog, that'd be more than enough compensation for what he provides readers with over the course of the season.
However, I digress. Today isn't a day to hurl insults toward our favorite punching bag. Instead, we turn our attention to ESPN Boston's Joe McDonald. I, Nolan Cardwell, son of a musician and an engineer, am far from the next Bob Ryan, but I took a pair of journalism classes in college and feel that allows me enough wiggle room to critique the work of a paid professional. In this case, it's directed at a man who thinks Shawn Thornton's departure is responsible for the Bruins mediocre, to date, 2014-2015 season.
Any who, in a strange, sort of weird tribute to Fire Joe Morgan, please enjoy SCOC's first installment of Fire Joe Haggerty. Edition 1: The Joe McDonald Edition. Below is a line-by-line (or maybe a couple bunched together, I don't know yet) breakdown of McDonald's January 5th column How The Bruins Can Turn Things Around.
---------------------------------------------------------------------------------------------------------
WILMINGTON, Mass. -- The Boston Bruins seem to have reached the "now-what" stage of this disappointing season.
No mention of Shawn Thornton thus far. Perhaps McDonald was feeling ill on this particular day.

Something needs to happen immediately if the Bruins want to salvage their season and climb back into playoff contention.
A very hot take on McDonald's end. His second line is one that is both unique and mysterious. With a strong hook, "Something needs to happen...", McDonald has grabbed our attention. We're strapped in and anticipating more steaming, hot takes.
Despite the team's recent performances, which continue to spiral downward, players haven't lost hope that they can somehow turn things around. But it's going to take a major undertaking.
It's good that the players haven't lost hope and, personally, I'm glad McDonald verified they're still in high spirits. With half a season remaining and a playoff berth within reach, far too often do we see teams and players shut it down. This is certainly a resilient bunch.
The two words players were using to describe what is missing in the team's play were passion and confidence. Despite the fact that the Bruins have earned points in nine of their last 11 games, posting a 4-2-5 record in that span, the lack of confidence has led to a drop in performance.
Confidence? They're playing Greg Campbell 13 minutes a night for Christ's sake. What are they expecting, positive outcomes? He's regressed every year, a horrifying realization given that he wasn't all that good to begin with. Once able to "hide" Campbell on the fourth line, able to utilize his competence as a penalty-killer in shorthanded situations, the former broken-legged cult hero sits dead last on the B's with a 5-on-5 CF% of 41.9%.
The inability to roll four lines, especially in Claude's system, is a major hurdle to overcome. Though, it shouldn't be too hard given that Boston has an arsenal of capable plugs sitting in the press box or hanging out down at the Dunkin Donuts Center. But I'll elaborate on that later.
[+] Enlarge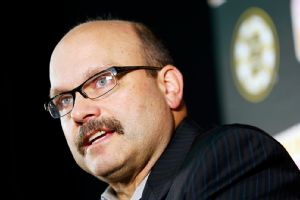 AP Photo/Michael DwyerPeter Chiarelli's Uncle Devin has a pet turtle named Gary. Gary thinks the Bruins should trade for
Andrej Sekera
.
"When you're frustrated it just drains the energy out of you, so right now we're trying to turn that frustration into some passion, and that leads to some confidence," Bruins coach Claude Julien said after Monday's practice at Ristuccia Arena.
If you replace the word "passion" with "chickens", it would appear that Claude is attempting to force his players to join some kind of bizarre. poultry cult. New CEO Charlie Jacobs should investigate.  

The Bruins have become a broken record with their comments. Too often we've heard "the effort is there" or "we're going to turn this around." The players are fed up with the excuses of too many injuries or too many lineup changes. Simply put, this team should be better.
Why is McDonald talking about breaking vinyl's? Is he not aware of how expensive these gateways to a hipster musical experience cost? At least McDonald acknowledges the obvious here; the Bruins shouldn't be in 9th place. Despite their inefficiencies, this roster has a strong enough core to bid for a mid-seed (4-6) playoff berth. 

When asked if president Cam Neely or general manager Peter Chiarelli has addressed the team, captain Zdeno Chara said those types of things would be kept internal.
If you ask me, sounds like they all got shitfaced and played Mario Kart.
Trust me. Been there, done that.

"We're not discouraged. We're obviously disappointed that we can't find the mystical tortoise-beast, but we're gonna keep plugging away and hopefully crack a few clues here and there." Chara said.
Keep looking, big fella. You'll find it one of these days. 

Here are five things that need to happen if the Bruins are to change their fortunes:

BUCKLE UP, Y'ALL. IT'S JOEY MAC TIME!  AWWW YEAHHH
Mine the trade market: Instead of trying to find an internal solution to the right wing position on the top line, Chiarelli needs to pull off a deal and acquire a talented and productive forward to play alongside David Krejci and Milan Lucic.
Talented and productive is hard to find with less than $2 million in cap space. But sure, ignore the blossoming talent of Seth Griffith and David Pastrnak, and go ahead and spend more money. Just what this team needs, more chunky salaries that'll clog things up down the road.
I know this is not breaking news, but it should be done now before the Bruins fall deeper into despair. A new face, a new voice can have a positive effect on a team if it's the right player. The other challenge here is the salary cap. The Bruins will have to give to get in this situation.
Give who, exactly? Though there have been calls to dump Chris Kelly, Loui Eriksson and Milan Lucic, I ask the following: is the market really piping hot for the latter, and why would you trade two-thirds of your, arguably, most offensively efficient line through 40 games? Yes, Kelly's $3 million salary is looked down upon by a majority, but the fact remains he's a valuable asset - among forwards, the Toronto native is sixth among forwards in CF% (54.7) and second in CA/60 (47.16). His 17 points (4 goals, 13 assists) in 38 games aren't setting the world on fire, but for a third-liner who doubles as a key-cog on the teams penalty kill, he's worth every penny of that, perhaps, higher-than-preferred salary.
And, with regards to Eriksson, if you want him traded please reevaluate your understanding of what constitutes a good hockey player. Is he overly passive at times? Absolutely. But that shouldn't take away from the fact he's an excellent second-line wing.
Earlier in the season, it was rumored the Bruins were interested in Edmonton Oilers right wing Jordan Eberle, but that's not going to happen.
Oh, do say?
The Buffalo Sabres' Chris Stewart remains a possibility. He's having a down year, but it's probably a result of the team's struggles.
Maybe citing his historically strong inconsistencies would have served as a better argument than "ehh, fuck it, the rest of the team sucks. Give him a free pass." While I'd take Stewart coming over for a cheap return (hoping for a 4th line reclamation project), it should be noted he's producing at a lesser rate than Brian Flynn. Who is Brian Flynn, you're probably asking? Well, that's exactly my point. Maybe they should take a flyer on this Flynn kid. He played at U-Maine, so local ties and what not. I'm spit-balling here and I'm sorry.
Shane Doan would be a perfect fit in Boston, but there are too many obstacles in acquiring the Arizona Coyotes veteran. Chiarelli loves that type of player, similar to Mark Recchi or Jarome Iginla. But it's unlikely Arizona would move Doan, plus his $5.3 million cap hit doesn't fit Boston's budget unless Chiarelli moves some salary. There aren't a lot of great options available given the Bruins' situation.
Shane Doan is a 38-year-old with 8 goals in 38 games. McDonald was kind enough to include his pricey cap-hit and that's appreciated because I have enough Google Chrome tabs open already. Perfect fit how? Because he's similar to Nathan Horton and Iginla, two players who excelled alongside Krejci and Lucic? McDonald's forgetting one, key thing here however; Doan isn't on-par with the former duo. He hasn't been for years.

When asked if he thought the current group has what it takes to turn things around, Julien said he believes in his players.
Yawn. 

"Right now I feel we have some obvious good players, players that have been here for a long time that have made this team successful, and right now frustration is probably a real big part of where some of the issues are," he said. "Our challenge right now is to focus on doing the right things and having a real determination to make things right.
I haven't had mashed potatoes in God knows how long. I want them bad. Not in like a perverted way or anything, I just want mashed potatoes. And corn-on-the-cob. (I'm getting sick of all these quotes, too.)
"Confidence, as we all know, plays a big role in success. Right now frustration has taken over the place of the confidence. We've got to try to switch that thing around."
They say confidence is a huge factor when approaching a woman, or so I've read on the internet. I've tried the cocky, god's-gift-to-society bravado, and let me tell you, I'm not buying into the hype. Still single.
[+] Enlarge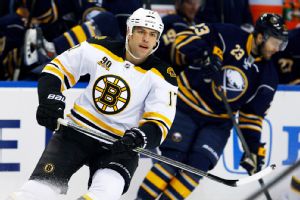 Timothy T. Ludwig/USA TODAY SportsMISSING: This dope. LAST SEEN: Hanging out in the slot pretending to be a sniper. REWARD IF FOUND: A Playoff Berth.
Paging No. 17: Frustration with Lucic's play is mounting.
Another piping-hot take from Rhode Island's renowned sports writer.
Management has been tight-lipped, but Julien has tried to make his point to the veteran forward that the team needs Lucic to do more -- a lot more. To his credit, Lucic has admitted he's not playing to his potential.
I don't think he has much of a choice here, Joe. If I was driving my car down the highway and ran over a person on purpose, then told everyone that it probably wasn't the best decision, at least I know Joe would give me some credit.
But his $6 million per season hasn't been money well spent. Prior to this season, Chiarelli called Lucic a "pillar" of the organization and the GM said he wanted to sign Lucic to an extension, perhaps this coming offseason.
McDonald is a bit confused here. Chiarelli wasn't referring to Lucic as a pillar, he was citing Joe's Breakfast Shack and their "Pillar" special, a breakfast favorite of Boston's most Jekyll-and-Hyde forward. For those wondering, the "Pillar" is a stack of 15 blueberry pancakes covered in maple syrup, M&M's and whipped cream. It can be had for just $7.99.
I've never been of the mindset to trade Lucic.
I figured. If you were, you probably wouldn't be getting made fun of right now.
Despite his subpar performance this season, I believe he remains an integral aspect to the Bruins' success.
This line was ghost-written by Joe Haggerty. Haggerty was so proud of his work that he went to the arcade where things quickly took a turn for the worst, as his hand became wedged in the dispensing-tray-thing of a vending machine. Bowling alley officials say he should be okay.
Trading Lucic would be a huge wakeup call to the team, but the Bruins instead need to find a way to get him going. Finding that addition to the top line, with the right player, could help.
Lucic is at his best when his game involves a bevy of physical play and his willingness to focus on the dirty areas of the ice. Sadly, those games are too few and far in-between these days. With $6 million attached to his under-performing name, now might be the best time to test the trade waters for a left-wing whose been trending downward for some time.

Net gains: There's no way you can completely blame the Bruins' deficiencies on goaltender Tuukka Rask.
I don't think many people, at least those with a high school diploma, were, Joe.
Like many of his teammates, he hasn't been at his best this season, but it's not all on him.
Considering his defensemen, at least the majority minus Chara and Hamilton, have resembled a burning truck crashing into a decrepit P.F. Chang's, I think "but it's not all on him" is a vast understatement.
The reigning Vezina Trophy winner hasn't stolen too many games in the first half of the 2014-15 season, and if the Bruins can somehow right the ship they will need him to do just that.
"It's like not all on him, but he needs to be the best ever or else like they're going to stink." Seems reasonable, Joe.
There shouldn't be any finger pointing. Rask should not blame his defense, and his defense should not blame him.
The defensemen shouldn't, but, oh boy, he can complain. I'm beginning to wonder if Joe has watched a single shift from Kevan Miller or Adam McQuaid this season.
Both are at fault this season.
"Tuukka why didn't you save the Titanic from sinking?" "Huh?" "Whatever, still your fault bro"
Now that the Bruins' defensemen are a completely healthy unit, and if they can remain that way, there's no reason to think Boston's perennially strong defensive game won't return.
Joe's logic here is as follows: Teetering defensive unit, marred by stunted and inconsistent youth + rusty Adam McQuaid = elite defensive unit. OK then!

Not enough Merlot:
dude c'mon, really?
The Bruins are at their best when Julien can roll four lines against an opponent on any given night.
I'm back, but for how long?
Boston had one of the best fourth lines in the league for a few seasons with Daniel Paille, Gregory Campbell and Shawn Thornton.
Their value was overrated, yes, but they were undoubtedly a major factor in both cup runs. However, to say they were the best fourth line in the league is a major stretch.
Everyone knows why Thornton is no longer a Bruin, and his absence is affecting the team both on and off the ice.
*I run out of my house, down the street and into oncoming traffic*
But seriously, this narrative is getting old. The Bruins aren't the intimidating, imposing-their-will team that was their bread and butter for seven years, but it has to do with a lot more than losing just Thornton. Boychuk, Ference, Horton and Iginla - all physical, hard-nosed players who exemplified that style of play - are no longer in town. Their ability to be productive players, combined with their knack for physicality, is greatly missed. Thornton's face-punching and ability to hold a stick, not so much.
Paille and Campbell have not had the kind of success they're used to this season.
Success should be in "" but, again, they've had their moments of triumph that warranted jobs until, oh I don't know, they began fading fast last season.
Paille has only one goal in 39 games, while Campbell has chipped in four goals and two assists for six points in 34 games.
No mention of their porous possession numbers. Though, Joe is still hung up on Thornton, so lets give him some time (probably 2 years) before he discovers analytics.
They've had a different linemate numerous times this season, but similar to Boston's top line, Julien hasn't found a perfect fit for the energy line.
They're the problem. Please tell me you know they're the problem, Joe.
Currently, Craig Cunningham has earned the opportunity, and he plays with the grit and determination that the Merlot line is known for. Maybe with a few more games, that line will click.
...you suggest more Merlot and offer no fix. Instead, just leave Campbell and Paille together, hope that Cunningham becomes  a possession-driver capable of carrying two anchors. Not a tall task at all for a 24-year-old rookie.
Joe does acknowledge Cunningham is worthy of fourth-line minutes, however, and let it be known that we're proud of him for that.
Accountability: This has been nearly nonexistent this season.
Well no Shawn Thornton, duh. C'mon bro.
The Bruins know they're struggling, but no one has taken this team on his shoulders and motivated it with his performance.
Bergeron, Chara, Eriksson, Hamilton, Kelly, Marchand, Smith and Soderberg have been playing well, yes, but not "putting the team-on-their-back well". Here's an idea; GIVE THEM A SUPPORTING CAST THAT ISN'T PAST THEIR PRIME.
There have been spurts, but that's about it.
Spurts is a good word. Personal favorite to be honest.
Even now that Boston finally has a complete and healthy lineup, the Bruins still are allowing wins to slip from their grasp.
A majority of the supporting players are trash, Joe. That's why. Health can't overcome a lack of skill and ability.
There's no way this team should be losing to the Carolina Hurricanes.
Hottest take of all hot takes.
Chiarelli, Julien and the players all need to be accountable for this season's massive skid. Each one has a responsibility to clean up their end.
Tough to fault bad players for being bad. The effort is there, they just aren't good enough. Simple as that.
No more excuses.
*a single tear runs down my cheek. The theme from Rocky begins playing.*
This isn't very good and I apologize for that. Other staff members will likely take the reins on future Fire Joe Haggerty posts, so don't give up on this idea just yet.